May 17, 2017 on 10:12 am | In
analysis
,
breaking news
|
4 Comments
This blog was dormant in 2016-17 as I focused on fatherhood and NBA broadcasting, but I did manage to keep standings and team-by-team schedules updated in a single Excel file made available online, so I was glad to have some part to play in the New Jersey hockey season and continue to maintain records going back at least 15 years.
I don't know exactly what the future holds for this site or my involvement, but I thought I would put together a post on the biggest news in high school hockey right now:
The NJSIAA will be adding a third public-school tournament in 2017-18 on a one-year, trial basis.
I had heard rumblings that this might come up, but it all seemed to come together pretty suddenly. Most coaches I talked to didn't even know about it. I don't know what happened behind the scenes, but here's the official paper trail:
March 22
The NJSIAA Ice Hockey Committee holds its postseason meeting. In addition to NJSIAA Assistant Director Jack DuBois, the committee consists of tournament director and Fair Lawn athletic director Cory Robinson, Shore Conference representative and Brick Memorial head coach Chip Bruce, Morris County representative and former Chatham head coach Harvey Cohen, athletic director representative and Morris Knolls athletic director Ken Mullen, CVC representative and Hightstown athletic director Jim Peto, and referee representatives Jack Lally (referee assignor) and Bob Triebe (state rules interpreter). These are hockey people, if not one that is super representative of state hockey coaches. On the agenda is a proposal to establish a third public group classification (Public C) as a one-year pilot program. It is approved 7-0. (NJSIAA minutes)
April 5
The NJSIAA Executive Committee holds its monthly, public meeting. Two major hockey issues are presented:
The proposal to allow ice hockey co-ops to be formed by three schools, provided they do not roster more than 30 players, passes its first reading.
The proposal to create a third public ice hockey group passes its first reading unanimously. The goal is to create three equal groups of 32-33 teams, more consistent with groupings in other sports, give "another school a championship opportunity," and to eliminate "the out-bracket game." (NJSIAA minutes)
April 6
The NJSIAA League & Conference Committee holds its monthly meeting, and Jack DuBois provides the update that the ice hockey committee is considering adding a third group and it was approved at the executive committee's first reading. (NJSIAA minutes)
May 3
The NJSIAA Executive Committee holds its monthly, very public meeting, with most of it taken up by discussion of the competing proposals to revamp the NJSIAA football playoffs.
Without any discussion, the ice hockey proposal is approved:
#NJSIAA
No discussion on ice hockey. Vote passes. There will be a one-year trial (pilot program) for a 3rd ice hockey classification next yr

— Varsity Aces (@VarsityAces) May 3, 2017
So there you have it. Three public groups in 2017-18, and they will almost certainly be split evenly from the state's public-school ice hockey programs, which currently number 97, although the proposal for Wayne Hills and Wayne Valley to merge could reduce that number to 96, and given the trend toward co-ops and now tri-ops, it could keep decreasing.
I have mixed feelings about this. I think in 5 years, it will seem completely normal to us, just like first having separate public/private tournaments and later splitting into Public A and Public B seem completely normal to us now. But I'm not so sure this is a good idea.
Every time I try to argue against the split, I find that the current fields thrown up in A / B / C are fairly reasonable. Schools with NJSIAA enrollment figures (3 years' worth of students) of less than 1,000 are in their own group (Public C), while what we have thought of as the bigger schools are now split into two groups. I don't find this necessary, but I don't hate it. Morris Knolls and Randolph were coming perilously close to Public B, and that would just kind of defeat the purpose. So for right now, the split might make sense.
But look at the direction things are going. More and more programs are becoming co-ops, in many cases just to stay alive. Co-ops, as a merger of 2-3 schools, will naturally have larger enrollments. So Public A is going to get weaker and weaker as more of the slots are taken up by co-op programs. Pretty soon there will only be about 10 stand-alone programs in Public A, which will hand a state championship to Bridgewater, Hillsborough, Howell, Hunterdon Central, Toms River North, or Watchung Hills (all with enrollment figures of 1,600+).
Yet there is a good chance that there will be at least 31 public co-op programs in 2017-18. That's roughly the same size the NJSIAA is targetting for each group with this new rule. So why not make co-op a separate category?
If we're going to separate private and public schools because they're not on a level playing field, this follows the same pattern. If a team pulls players from multiple schools, it should only compete for a championship against teams pulling players from multiple schools. (The counter-argument being that most co-ops would be broken up if they started competing for state championships, as co-ops are typically approved for schools which are struggling to field a team).
I ran the numbers, and if you split co-ops into their own group, the dividing line for enrollment figure would only go from 1,000 (between Public B/C) to 1,050 (between Public A/B). So it wouldn't affect the bottom group that much. Last year's tournaments would have had 26 teams in Public A, 22 in Public B, and 12 in Public Co-Op. Although there might have been a different scheduling and at-large considerations that would have brought Public Co-Op to 16 teams. It's also possibel that private co-op teams could be allowed into the Public Co-Op tournament. Which would ruin the cool Public C moniker, but that's OK!
Do I love that co-op programs will be able to say they were state champions and receive the same trophy as a typical, stand-alone program? Not really. Is it possible that adding a co-op state championship will encourage more schools to co-op unnecessarily? Very much so.
But I do think splitting co-ops into their own state tournament would be pro-active (anticipating more co-ops) rather than reactionary (our tournaments got too big, so let's add another one!), and I do think it would put teams on an even playing field, both lessons I want to see in high school sports.
What do you think? Weigh in via the comments section!
—
By the way, there's almost no chance it will happen that way in 2017-18. Here's how I expect Public A / B / C to break down:
Of the 32 teams that would go into what I would expect to be a 32-team Public A group, 16 are co-ops (17 if the Wayne programs merge). Programs include Bridgewater-Raritan, Hunterdon Central, Hillsborough, Howell, Watchung Hills, Freehold Township, Southern Regional, Montclair, Robbinsville / Allentown, Sparta / Jefferson. 17 of the 32 made a state tournament last year.
The 32 teams that would make up Public B include 11 co-ops (12 if the Wayne programs merge and move up to Public A). We're talking Ridge, Westfield, Livingston, Morris Knolls, Morristown, Montgomery, Randolph, Roxbury, both Middletown North and Middletown South, Jackson Memorial, Princeton, and probably Northern Highlands. 25 of the 32 made a state tournament last year.
The 33 teams that would make up Public C (32 if the Wayne programs merge) all have NJSIAA enrollment figures (3 years' worth of students) of less than 1,000 and include only three co-ops. They include Brick Township, Chatham, Ramsey, Summit, Glen Rock, Hopewell Valley, Indian Hills, Kinnelon, Lakeland, Madison, Mahwah, Mendham, Rumson-Fair Haven, Wall. 18 of 33 made a state tournament last year.
November 16, 2015 on 7:02 pm | In
breaking news
,
JY20
|
Comments Off

on JY20: One weekend away, and I miss big news

I returned on Sunday from a weekend broadcasting soccer in North Carolina, and, once I had time on Monday, I logged in to my @NJ_Hockey twitter account to see what I had missed. After all, practices had been going for a week, scrimmages would be starting soon, and surely there would be some chatter, some news.
There turned out to be a lot more than I anticipated! Continue reading JY20: One weekend away, and I miss big news…
February 10, 2014 on 12:40 pm | In
breaking news
|
1 Comment
The winter weather has wreaked havoc on New Jersey hockey all season long, and the state's governing body for high school athletics adjusted accordingly on Monday, extending the deadline for ice hockey teams to reach the .500 mark to qualify for the state tournament by two days. Games played up to and on Wednesday, February 12, will now count toward qualification. A similar adjustment has been made in past years when schedules have become particularly back-logged. NJSIAA assistant director Jack DuBois confirmed the adjustment to NJHockey.org on Monday morning.
I did not discuss details with DuBois, but if memory serves, teams that finish Monday at the .500 mark and then drop below it on Tuesday or Wednesday should still qualify automatically for the state tournament. Montclair (7-7-4, vs. Nutley on Tuesday) and Montgomery (9-9-3, at Red Bank Catholic on Tuesday) are the two teams I think are most likely to be in that situation.
You can expect a frantic round of scheduling for Tuesday and Wednesday, as teams like Morris Knolls (9-10-4), Hillsborough (9-10-3), South Brunswick (5-7-2), Ramapo (8-10-1), Jackson Liberty (7-8-3), and first-year program Central Regional (7-8-2) try to sneak in at the new deadline.
January 31, 2014 on 10:59 am | In
analysis
,
breaking news
|
Comments Off

on Shore Conference will try 16-team playoff format
The Shore Conference first began awarding hockey titles in 2003-04, when the additions of Red Bank Regional and Point Pleasant Borough gave the league 16 hockey-playing schools. Ten years later, after seemingly constant changes and adjustments to its hockey format, the Shore Conference has broken with New Jersey hockey precedent by announcing its intention to run a 16-team Shore Conference Tournament and determine a single champion, as it does in most other sports.
Previously, Shore teams had been assigned as eligible to compete in either the Handchen Cup or the Dowd Cup. Both trophies had been awarded by the New Jersey Ice Hockey League, with the Handchen Cup dating back as far as 1985, and were adopted by the Shore Conference when its hockey divisions were formed in 2007-08.
Prior to the current school year, however, the conference's executive committee voted to inaugurate a 16-team playoff format to determine one Shore Conference champion. The document detailing the format is available via this link.
"Last year, the Shore Conference voted to eliminate the Handchen and Dowd Cups and align with the other Shore Conference tournaments," tournament director and Brick Township Director of Athletics Rick Handchen wrote in an email on Friday. The now-retired Handchen Cup is named for Rick Handchen's father, and he expressed fondness for the tradition of both tournament trophies.
The move is likely to be unpopular with the hockey community, because some of the early-round games will be mismatches, and less competitive programs would prefer the chance to compete for a cup championship against schools with similar abilities in ice hockey.
Issues also arise, however, when comparing the terms of the Shore Conference Tournament with rules proscribed by the NJSIAA, the state's governing body. Its tournament regulations, which have been publicly available since the fall, include the following passage:
A play-off series shall be of a single elimination type not to exceed eight (8) teams and limited to a maximum of three (3) games [per team].
The Shore Conference Tournament clearly does not meet these parameters. It will have 16 teams, and the two teams playing in the final will play four games each.
However, two other playoff tournaments and one in-season tournament already fail to meet these guidelines. The Gordon Cup tournament has included 10 teams since 2010, and the Mercer County Tournament has had as many as 15 teams in some editions, though the number is usually closer to 13.
Because the top seeds in those tournaments do not play in the preliminary rounds, teams almost never play four games in one tournament, as at least two teams will do in the Shore Conference Tournament. No team has never played four games in the Gordon Cup, and it happens only occasionally in Mercer County, most recently when Princeton reached the final as a No. 9 seed in 2010. The in-season Bergen County Tournament includes 12 teams but is not considered a "play-off series."
The Shore Conference Tournament rules also call for ties in the first three rounds of the tournament to be broken by a five-minute overtime period, followed by a shootout. Yet the NJSIAA's ice hockey rules modifications for this year, also publicly available, state:
There shall be no overtime periods except in league playoffs, regular season tournaments, the NJSIAA state tournament or when playing out of state. For games that require a team to advance, a 15 minute overtime and shootout procedure must be used. For final or championship games, a 15 minute overtime must be used. A shootout shall not be allowed.
When asked about the discrepancies with NJSIAA rules both in number of games in the tournament and in the length of the overtimes, tournament director Handchen cited limited ice time as the reason for five-minute overtime periods and said the Shore Conference executive committee has approved the tournament rules.
While the tournament's regulations do technically violate NJSIAA protocol, it seems unlikely that any changes will be made this year. The tournament games are spaced such that no team will violate the three-games-per-week regulation, and no team is in danger of exceeding the 26-game maximum prior to the state tournament.
Continue reading for more on the Shore Conference's hockey history. Continue reading Shore Conference will try 16-team playoff format…
August 13, 2013 on 10:42 pm | In
breaking news
|
Comments Off

on New rink opens in Middletown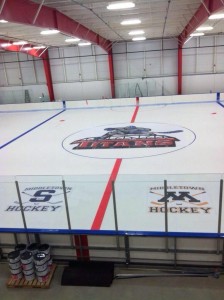 The Shore has another hockey rink to host high school games this winter, as Middletown Ice World has opened at the Middletown Swim Club and will play host to both Middletown North and Middletown South. While its primary tenant, junior hockey's Titans, get the coveted center-ice logo placement, the Eagles and Lions do get their logos on the fresh sheet as well.
Here are articles on the opening from the Asbury Park Press and the Middletown Independent.
August 1, 2013 on 12:15 pm | In
analysis
,
breaking news
|
1 Comment
The NJSIAA has thoughtfully released its classifications for the 2013-14 year via its web site, and they always make for fascinating reading.
The key when considering hockey implications is the distinction between Public A and Public B. I currently expect there to be 103 102 teams on the public school side next year, so there will be 51 in Public A and 51 in Public B.
However, there are some factors to consider other than pure enrollment. Last year, the NJSIAA made the decision to place all co-op programs in the Public A field. While I disagree with that decision, I do understand its logic. However, I believe most coaches were not informed until the season was well underway (if they were informed at all), and so I hope the Public A / B split will be a little more transparent from the beginning this year.
New co-op programs are all the rage, since the NJSIAA Executive Committee now allows schools of any size to co-op for hockey and has set a precedent of allowing schools to co-op with different partners than in other sports. The text of the NJSIAA bylaw change includes the text: "A Cooperative Sports Program in the sport of ice hockey may be formed between schools of any Group, as long as the program meets all other requirements of the Bylaws and the Guidelines for Cooperative Sports Programs and the program will not diminish the playing opportunities for student-athletes of the two schools or adversely affect competitive balance."
With those changes come at least three new co-ops in 2013-14 (and several others are allowed to stay). Here's the NorthJersey.com story on Lyndhurst and Paramus and its story on Old Tappan and Hasbrouck Heights. And the Trentonian article on Nottingham and Hamilton. Those three co-ops will drop several teams down into the Public B ranks for 2013-14. I got a Thursday afternoon update that J.P. Stevens and Edison, both Group IV schools with struggling programs, intend to co-op in 2013-14. All lists below are assuming that co-op agreement goes through.
As a reminder, NJSIAA enrollment figures are the number of students expected in grades 10-12 for the upcoming year, NOT the school's total enrollment.
Here are the teams I expect to move up to Public A in 2013-14:
1,833 Nottingham / Hamilton (new co-op)
1,463 Paramus / Lyndhurst (new co-op)
1,413 Old Tappan / Hasbrouck Heights (new co-op)
Co-ops whose enrollment places them in Public B but might still be placed in Public A:
1,001 Manasquan / Point Pleasant Beach
884 Verona / Glen Ridge
778 Dayton / Brearley
Teams that could drop to Public B in 2013-14 IF all co-ops are placed in Public A:
1,132 Millburn
1,120 Scotch Plains-Fanwood
1,114 Wayne Valley
Teams I expect to drop to Public B in 2013-14:
1,096 Roxbury
1,088 Toms River South
1,088 Middletown North
1,049 Steinert
1,049 Mount Olive
November 2, 2012 on 11:24 pm | In
breaking news
|
1 Comment
According to the Bergen Record, the rink at Mackay Park in Englewood – home to Tenafly and Old Tappan – will not open in 2012-13 after Hurricane Sandy caused damage to the recently renovated facility's roof. The whole article, written by Rebecca Baker, is available here.
Although there had been a delay in issuing schedules for both schools, due to the offseason renovations, most games had recently been announced, with Old Tappan scheduling seven home games and Tenafly five, with another two still to come.
As far as other New Jersey rinks go, I have not heard of damages to any specific facilities. The Red Bank Armory website says it is closed until further notice but does list scheduled events as soon as Tuesday, November 6; the Ice House website says it will be closed Nov. 2-4 at a minimum.
Of course, thoughts are with everybody trying to recover from the disaster, and we hope the hockey community continues to help wherever there is a need.
Next Page »
Powered by WordPress with Pool theme design by Borja Fernandez.
Entries and comments feeds. Valid XHTML and CSS. ^Top^