August 13, 2013 on 10:42 pm | In
breaking news
|
Comments Off

on New rink opens in Middletown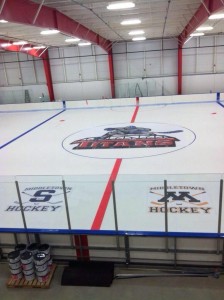 The Shore has another hockey rink to host high school games this winter, as Middletown Ice World has opened at the Middletown Swim Club and will play host to both Middletown North and Middletown South. While its primary tenant, junior hockey's Titans, get the coveted center-ice logo placement, the Eagles and Lions do get their logos on the fresh sheet as well.
Here are articles on the opening from the Asbury Park Press and the Middletown Independent.
August 1, 2013 on 12:15 pm | In
analysis
,
breaking news
|
1 Comment
The NJSIAA has thoughtfully released its classifications for the 2013-14 year via its web site, and they always make for fascinating reading.
The key when considering hockey implications is the distinction between Public A and Public B. I currently expect there to be 103 102 teams on the public school side next year, so there will be 51 in Public A and 51 in Public B.
However, there are some factors to consider other than pure enrollment. Last year, the NJSIAA made the decision to place all co-op programs in the Public A field. While I disagree with that decision, I do understand its logic. However, I believe most coaches were not informed until the season was well underway (if they were informed at all), and so I hope the Public A / B split will be a little more transparent from the beginning this year.
New co-op programs are all the rage, since the NJSIAA Executive Committee now allows schools of any size to co-op for hockey and has set a precedent of allowing schools to co-op with different partners than in other sports. The text of the NJSIAA bylaw change includes the text: "A Cooperative Sports Program in the sport of ice hockey may be formed between schools of any Group, as long as the program meets all other requirements of the Bylaws and the Guidelines for Cooperative Sports Programs and the program will not diminish the playing opportunities for student-athletes of the two schools or adversely affect competitive balance."
With those changes come at least three new co-ops in 2013-14 (and several others are allowed to stay). Here's the NorthJersey.com story on Lyndhurst and Paramus and its story on Old Tappan and Hasbrouck Heights. And the Trentonian article on Nottingham and Hamilton. Those three co-ops will drop several teams down into the Public B ranks for 2013-14. I got a Thursday afternoon update that J.P. Stevens and Edison, both Group IV schools with struggling programs, intend to co-op in 2013-14. All lists below are assuming that co-op agreement goes through.
As a reminder, NJSIAA enrollment figures are the number of students expected in grades 10-12 for the upcoming year, NOT the school's total enrollment.
Here are the teams I expect to move up to Public A in 2013-14:
1,833 Nottingham / Hamilton (new co-op)
1,463 Paramus / Lyndhurst (new co-op)
1,413 Old Tappan / Hasbrouck Heights (new co-op)
Co-ops whose enrollment places them in Public B but might still be placed in Public A:
1,001 Manasquan / Point Pleasant Beach
884 Verona / Glen Ridge
778 Dayton / Brearley
Teams that could drop to Public B in 2013-14 IF all co-ops are placed in Public A:
1,132 Millburn
1,120 Scotch Plains-Fanwood
1,114 Wayne Valley
Teams I expect to drop to Public B in 2013-14:
1,096 Roxbury
1,088 Toms River South
1,088 Middletown North
1,049 Steinert
1,049 Mount Olive
Powered by WordPress with Pool theme design by Borja Fernandez.
Entries and comments feeds. Valid XHTML and CSS. ^Top^