November 16, 2015 on 7:02 pm | In
breaking news
,
JY20
|
Comments Off

on JY20: One weekend away, and I miss big news

I returned on Sunday from a weekend broadcasting soccer in North Carolina, and, once I had time on Monday, I logged in to my @NJ_Hockey twitter account to see what I had missed. After all, practices had been going for a week, scrimmages would be starting soon, and surely there would be some chatter, some news.
There turned out to be a lot more than I anticipated! Chris Rotolo, who provides great Shore Conference coverage via the Asbury Park Press, had started to publish his online hockey preview. He had already written about three of the conference's 27 teams, which impressed me at this early juncture, but he also had some news that I hadn't seen.
First of all, there was Middletown North forward Khristian Acosta, a key part of the orange-clad Lions' high-scoring surge to their first state championship last winter, committing to a Division I school. Not just a D-I school, but Quinnipiac University in Connecticut, recently ranked as high as No. 2 in the country. This coming one year after another senior at a New Jersey public school, Ramsey's Alex Whelan, committed to the Bobcats.
Now we've seen New Jersey kids play Division I hockey over the years, but it always felt like they were few and far between, with a disproportionate number coming from the private-school ranks or leaving their public schools to play club hockey. While both will play at least one season in junior hockey before matriculating at Quinnipiac, to see four-year public-school players sign with quality Division I programs is simply an incredible indication of how good hockey in New Jersey can be.
While Acosta made his verbal commitment over the summer, signing on the dotted line is still terrific news, so congratulations to Khristian and his family; I hope I get to see him skate this winter.
—
But that wasn't the news that blew me away. What really stunned me – and forced me to re-jigger some of the work I had already done in October building my documents for the season – was the announcement that St. Rose and Monsignor Donovan will merge programs for the upcoming season. This news broke late last week, AFTER practices had already started. I'm shocked that these decisions were finalized just two weeks before the season starts. Both teams had full schedules: division games, non-league games, holiday tournaments, you name it.
Everything seemed normal, at least from my very removed position up here in New York.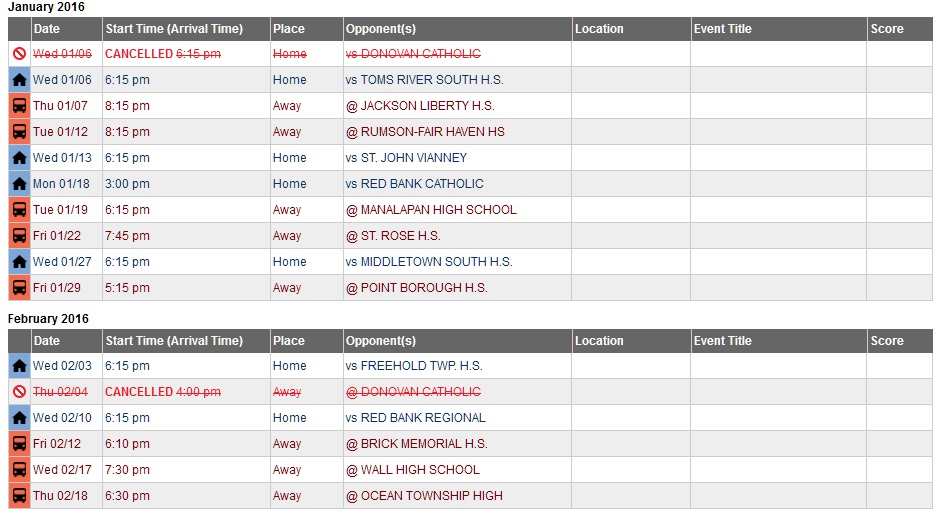 Now teams will be left with holes in their schedules (see Manasquan / Point Pleasant Beach's schedule, at right), including the three other teams in Donovan Catholic's town of Toms River; the four traditionally play in the two-night Mayor's Cup over the December holidays.
While I don't know the details of the numbers and issues involved in the merger, it seems most strange to see a co-operative team formed between two private schools (there are only two other co-ops in the private ranks, both helping a school continue to field a team) that BOTH qualified for the NJSIAA tournament just last season. How many players transferred or graduated that one of these teams (presumably Donovan Catholic) could not field a squad for 2015-16?
Anyway, the state's governing body for high school sports, the NJSIAA, has thankfully just updated its list of co-operative sports programs (the co-op concept is not exclusive to hockey, although more mergers are allowed in hockey than in other sports due to low participation). That document both confirmed the St. Rose / Donovan Catholic meger and alerted me to a couple of other co-ops that had not previously been announced. I have even heard rumors of yet another co-op agreement, but it is not yet confirmed.
At any rate, here are the new co-ops that were just confirmed last week, the first two in the NJSIAA's Executive Committee meeting on Nov. 11:
Tenafly / Cresskill: These teams used to operate a co-op through the 2010-11 season, with small-school Tenafly supplying most of the players. The addition of Cresskill's even-smaller enrollment figure put the combined team up into Public A, but when Tenafly began playing on its own in 2011-12, its enrollment placed into Public B. There, the Tigers became an instant contender, going all the way to the Public B state championship before losing in overtime to Summit. The co-op has now been re-established at what could be an opportune time: Playing in Public A now probably offers an easier route in the state tournament.
Old Tappan / Demarest / Hasbrouck Heights: These three teams played together last season, one of just two "tri-ops," as the Bergen Record's JJ Conrad likes to call them, allowed by the NJSIAA (Paramus / Lyndhurst / Hackensack is the other).


NJSIAA – Old Tappan/Demarest/Has Heights seeking to co-op again for ice hockey. A tri-op. It is approved.

— Varsity Aces (@VarsityAces) November 11, 2015

These have only been approved in real "we-need-these-players-or-we-won't-have-a-team" situations. Until now, the thought was that Old Tappan and Demarest, sister schools as part of the Northern Valley Regional School District, would operate as one co-op this year, without Hasbrouck Heights, but now they have a reprieve. The personal significance? I hate tri-ops, because listing three schools with slashes just gets too long, especially when two of those schools involve two words. So we'll go with Northern Valley / Hasbrouck Heights for this team once again, linking Old Tappan and Demarest under the school district banner.

St. Rose / Donovan Catholic: I don't know what to make of this one yet, and, like Chris, I'm going to have to find out more and get back to you. St. Rose is by far the smaller school but seems to be the primary program, with games against Donovan Catholic (known as Monsignor Donovan until just last year) scratched out on division opponents' schedules. Will the jerseys and the unique Purple Roses nickname remain? Will they honor the St. Rose commitment to the South Mountain Holiday Tournament or the Donovan Catholic commitment to the Mayor's Cup of Toms River? We'll have to wait and see.
—
I'm going to have more discussion of co-ops during this season, preferably with some first-hand accounts of how they come to be and how they work. Park Regional (Hanover Park / Whippany Park) was the first co-op I knew of (those two schools at least shared a school district, so you understood the idea), starting in 1989-90 or 1990-91. Rivals in most sports, it was always odd to see black-and-gold Hanover Park letter jackets in one part of Mennen Arena, maroon-and-white Whippany Park letter jackets in another, yet both on the same side of the ice in support of the black-and-red clad 'Park.'
From that original co-op, we're now up to 30 total co-ops (out of 128 teams) in New Jersey hockey. A full 22 of those are in Public A, and 15 of those 22 would be in Public B if only the main school's enrollment was considered. That tends to mean a lot of weaker programs (they wouldn't need to co-op if they weren't weak) in the large-school bracket, making Public B the deeper section.
The Tenafly / Cresskill co-op means an additional team in Public A, which should push West Windsor-Plainsboro South down to Public B. But in the past, the NJSIAA has shown a tendency to leave teams in the groups that were originally posted (see Morristown, 2014-15), so the Pirates' potential postseason bracket is yet another "wait and see."
No Comments yet
Sorry, the comment form is closed at this time.
Powered by WordPress with Pool theme design by Borja Fernandez.
Entries and comments feeds. Valid XHTML and CSS. ^Top^