December 8, 2015 on 10:26 am | In
analysis
,
JY20
|
Comments Off

on JY20: Back to the ice and some early storylines
I really meant to have more written by now. I was supposed to be doing at least two blog items per week, a mix of covering this year's hockey season, looking at general issues throughout our game, and occasionally reflecting back on my experiences, stories, and memories from New Jersey high school hockey.
But, as if to emphasize why my days doing this may be numbered, I just haven't found the time.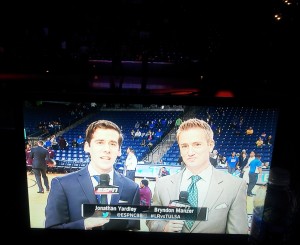 I had the good fortune of being very busy on the work / broadcasting front over the last two weeks (I'm opening a basketball broadcast in Tulsa on the right), so most free seconds were devoted to family or to studying basketball and football teams ad nauseum. That studying paid off with what I felt were a very strong series of broadcasts, including my best college football work in a couple of years, so I think I closed the calendar year strong on that front.
Back in the ice hockey world, I've gotten great responses and encouragement from people who enjoyed reading my earlier posts, and I really appreciate everyone who took the time to tell me they enjoyed it or who shared his or her own stories. I hope to get back on the horse with some consistent writing pretty soon.
This season, 2015-16, is off to an interesting start. The three favored private schools – CBA, Delbarton, and Don Bosco Prep – are a combined 10-1-1, with the only loss coming in the most dramatic of fashions, with Bosco edging CBA on a goal with 1.5 seconds left on Dec. 4.
Throw in the disparate margins of victory against Bishop Eustace by Delbarton (10-1) and CBA (2-1), and I've already had arguments with colleagues and friends over who should be ranked No. 1. Thankfully, the teams get to mostly settle that themselves, and the Dec. 16 Delbarton-CBA game at Jersey Shore Arena should be circled on everybody's calendar.
Let's be honest, though: while the big private programs play the best hockey and are fascinating to watch, the public-school races are usually a little more compelling. There are usually more fans, with more passion, for those games, and there's more of a sense of parity, of a wide variety of schools that are capable of putting together a quality team.
With that in mind, keep an eye on Morris County, where a Mendham win over Morris Knolls indicates that the favorites might not be so far above the rest of the pack this year. And how much more magic does this Madison group have, anyway? First year ever in the league's 'B' division, and the Dodgers are 4-0. They get Kinnelon tonight and Mendham on Saturday, so keep an eye out.
OK, the rest of the state is groaning. Jon's writing about Morris County again. Who else am I looking for?
Obviously, the Middletowns played an early thriller, with North pulling out a one-goal win. That's one game I would have loved to see in person, and both squads are worth watching as the year continues.
Montclair impressed in a 4-1 win over Summit, but without any other results (the Mounties' game against Glen Rock was postponed), it's tough to know how good they are. Wednesday's home game against Livingston will provide some kind of barometer. Lakeland and Ramsey already look like co-favorites in the Big North's Liberty Division, while Fair Lawn is off to a frustrating start for what has been a consistent program.
There's definitely others out there, but those are some of the storylines I'm keeping an eye on so far. Frisch (2-0) making the most of its first year as a varsity team, Bayonne getting back on the ice at refurbished Korpi Arena (please tell me they kept Score-O!), and South Brunswick beating Edison 14-7 (you'd think somebody would have gone for two) have all brought smiles to my face so far.
No Comments yet
Sorry, the comment form is closed at this time.
Powered by WordPress with Pool theme design by Borja Fernandez.
Entries and comments feeds. Valid XHTML and CSS. ^Top^