February 7, 2006 on 7:45 pm | In
game recap
|
Comments Off

on A dissatisfactory result
Morristown-Beard 2, Delbarton 2
A lot has changed in the last 12 years, but Morristown-Beard still can't beat Delbarton. Chris Volonnino scrambled home a rebound with 44.7 seconds remaining at Aspen Ice in Randolph Tuesday as the No. 2 Green Wave rallied for a 2-2 tie with the seventh-ranked Crimson. Delbarton is 30-0-4 against Morristown-Beard since 1994, although the teams have tied three of their last four meetings.
Delbarton dominated the first two periods in the teams' first meeting since the 2004 Mennen Cup final. As he did Friday, captain Alex Smigelski opened the scoring, but this time it took half the period. After defenseman Brian Fuller forced the puck down low and Erik Olson won it out of the corner, Smigelski beat Crimson goalie John Yanchek at the near post from a short angle on the left side to make it 1-0. The Green Wave continued to press, and Dan Pressl was just wide with a rebound minutes later.
Yanchek was at his best, however, in the first 10 minutes of the second period. Delbarton, led by an outstanding two periods from freshman defenseman Alex Velischek, had 10 of the first 12 shots in the period. The best chance came with 8:29 remaining, when Yanchek slid to his right to deny Charles Nerbak at the back post after a pass from Matt Schillings on a 2-on-0 break. He then stoned Schillings from the left face-off circle two minutes later to keep it a 1-0 game. As I mentioned in the preamble to one Top 20 poll a few weeks ago, most of the top teams have a goalie capable of stealing a game – Yanchek stole the second period Tuesday with 14 saves.
Predictably, Morristown-Beard came out fired up for the third period, and Delbarton goalie Sean Kaplan had to make a point-blank save on Dan Shurts inside of 20 seconds. Delbarton matched its top line against Morristown-Beard's all night, but the matchup went the other way at the five-minute mark. Off an offensive zone draw, Kaplan could not hold Shurts' shot, and Sam Altiero got to the rebound to lift it over Kaplan and tie the game. The Crimson celebrations – both on the ice and off – were extreme, and the student fans in the balcony accidentally broke a pane of glass on the railing from the pounding, holding up play for five minutes. Morristown-Beard continued to have the slight edge in play in the period, and Altiero was on target again four minutes later with a sublime snap shot from the left circle that he placed just under the crossbar as Alberti drove toward the net to distract Kaplan.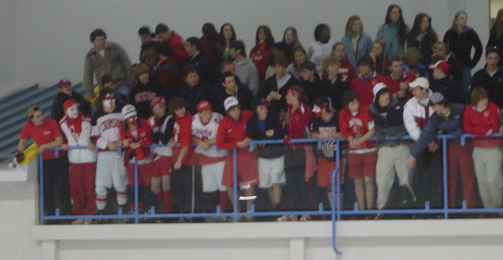 Clinging to a 2-1 lead and hoping for its first win over Delbarton since Feb. 10, 1994, Morristown-Beard fell prey to an old foe – line changes – and was whistled for too many men on the ice with three minutes remaining. Although Delbarton failed to capitalize on the power play, Beard iced the puck just after it expired, giving Delbarton an offensive zone face-off with 0:54.8 remaining. Delbarton head coach Bruce Shatel pulled Kaplan for a sixth attacker, and it paid off in just 10 seconds. Dan Pressl circled on the left point and fired a shot on net. Yanchek made the initial save, but was unable to cover the puck, and Volonnino was on hand in the low slot to shovel it into the corner for a dramatic game-tying goal. Neither team was especially pleased to hear the final whistle, Morristown-Beard for again blowing a late lead and Delbarton for being held to the tie.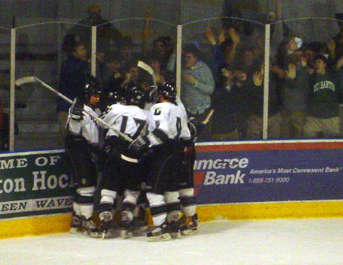 The tie is a slight blow to Delbarton's hopes of earning the No. 2 seed in the private state tournament, but the Green Wave can still probably get that honor if they beat St. Augustine Prep and St. Peter's Prep. Beard improves to 2-0-1 against Gordon competition but will still be unsure of receiving a seed higher than sixth or seventh.

Morristown-Beard 2, Delbarton 2
Scoring
Shots
| | | | | | |
| --- | --- | --- | --- | --- | --- |
| MB | 3 | 7 | 9 | | 19 |
| Del | 7 | 14 | 5 | | 26 |
1st
7:38 Del #9 Alex Smigelski (#13 Erik Olson, #2 Brian Fuller)
2nd
none
3rd
4:59 MB #9 Sam Altiero (#21 Dan Shurts, #19 Greg Alberti)
9:134 MB #9 Sam Altiero (#19 Greg Alberti, #21 Dan Shurts)
14:15 Del #26 Chris Volonnino (#17 Dan Pressl)
Goalies
#30 John Yanchek (MB) 26-24
#1 Sean Kaplan (Del) 19-17
Power plays: Del 0-1

No Comments yet
Sorry, the comment form is closed at this time.
Powered by WordPress with Pool theme design by Borja Fernandez.
Entries and comments feeds. Valid XHTML and CSS. ^Top^